Some people have perfect babies — babies who show their parents at week 14 or 16 what they've got between their legs. Babies who suck their thumbs and do somersaults so the ultrasound technician can get cool pictures and video for Mommy and Daddy to show off. Then there's Pele.
On a normal day, our athletic fetus can be felt (and even seen) kicking and flipping about merrily in my uterus. Night and day, the wee one makes her presence known by contorting herself into all manner of shapes, making sure to throw a limb to the bladder or belly button each time she shifts position.
However, Thursday was different. We're not sure how she figured it out, but the baby definitely knew it was time for an ultrasound, and resolved to be as uncooperative as possible.
We had been expecting this; first, because this is our baby we're talking about, and second, because the baby has already established itself quite a reputation as a big tease.
Back in Week 17, when we had the big ultrasound, the technician refused to identify the baby's gender. We'd expected that, but what we didn't expect was that, in the picture she took of Pele's face and body, we would be able to see what was between the baby's legs. Only problem was, the stuff the baby was flashing at us was extremely ambiguous. We were 75 percent sure it was a girl, but Pele's little presentation was certainly nothing to base a nursery around.
Then, on the 12th, Dr. Goncalves tried his hand at unraveling the mystery that is Pele's gender. While he got a better shot than the one we'd been staring at for a month and a half, he could only say this: While no boy parts were visible, there weren't any visible girl parts either. We were 90 percent certain now that our feisty little one was a girl, but not sure enough to buy frilly pink crib bedding.
At our wits' end, we decided to visit a 3D-ultrasound boutique while Chris was in Silicon Valley on business. I arose early, devoured a hearty breakfast and washed it down with two coffees and two orange juices. Normally, this would have been the perfect recipe for an acrobatic performance by our wee gymnast.
Pele was kicking in IHOP and somersaulting in the waiting room. As I hopped up onto the exam table, my heart swelled in anticipation of finally gazing on my unborn baby's tiny face and watching it turn dozens of perfect back handsprings, or hang drywall, or practice kung fu, or whatever it does in there that's so friggin' physical.
Within 30 seconds of placing the transducer on my belly, the technician had news for us.
IT'S A GIRL!
There is no doubt about it, she said as she showed us in 2D. Unfortunately, the baby's hands were placed over her girlie bits, so the 3D would have to wait until she moved them. No problem, though, since I'd had so much caffeine and sugar. Right?
When we moved up to look at the baby's angelic little face, there was another problem. Apparently all this gymnastics practice has resulted in a baby who is freakishly limber. With her hands covering her little hamburger buns, you'd think there would be a clear shot of Pele's visage. But no. Our stubborn little one had folded herself up like a little jackknife, with her feet directly in front of her face.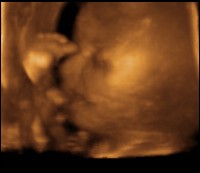 As seen above, our little darling was so intent on concealing her face, she very nearly put her eye out with a wee toe.
For a good 15 minutes, we jiggled and poked my belly, hoping to coax some movement out of the baby. It must have been very difficult for her to stay still that long, seeing as how she normally adores a bacon-and-egg breakfast, but the baby stayed perfectly still for what may have been the first time in her short life. I'm sure that one day, our playful fetus will excel at the children's trampoline game, "Crack the Egg."
The technician gave me a glass of apple juice and some chocolate. I ingested the sugary treats and then bounced around the room in hopes Pele's position would change. Our labors, however, were in vain. Our tiny contortionist was in the very same spot as before, still folded in half.
Since the ultrasound people had a slow morning booked, Chris and I headed down the street with big sister Kaija for a nice, sugary, cream-capped double-espresso shake. After ingesting two shots of espresso (in addition to my two mugs of coffee at IHOP), I was certain the baby would move. Twenty minutes later, we returned to the exam room. No dice. The baby had not budged even a fraction.
In desperation, we hopped in the Explorer and cranked up the bass. We listened to a few different songs with no results. Finally, when "Brass Monkey" came on, the baby did a few flips. I leapt out of the SUV like a madwoman and raced into the ultrasound room. As the longsuffering ultrasound tech poured what must have been her second tube of gel on my belly, I felt a small thump. Surely the baby had to be in a different position by now!
And she was.
Sort of.
Apparently the small thump was our little girl flipping her legs back up in front of her face. Luckily, she had forgotten to put up her hands, so we finally got the 3D shot of her irrefutably female parts.
More jiggling and prodding commenced, but the baby never did move another muscle. Like the fools that we are, we're returning later in the week in hopes of getting that elusive face shot.
Until then, here's the clearest thing we've got of our 1-pound, 14-ounce daughter: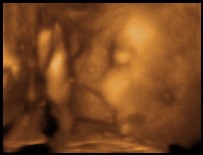 Isn't that a sweet little face? You'd hardly believe such a cutie pie is capable of such nefarious scheming.