The wee one wasn't her usual temperamental self this week, but she still managed to be a pain in the butt. Literally.
Over the past month and a half, I've become accustomed to her battling for space with my bladder — usually with a well-placed kick to that rather sensitive organ. But this week, I've experienced nary a near-accident. This is because our little girl has finally flipped into the vertex position, where we hope she will stay until it's time for her grand entrance.
However, turning head-down does not mean more comfort for me. Although it is nice to no longer double over suddenly in Blockbuster and then have to check to be sure I didn't wet myself, a vertex baby is not the bed of roses one might think it to be.
Our little princess has found herself a most comfortable position, her dear tiny head nestled firmly against my coccyx. This new position allows her the occasional bladder punch, but more importantly, it reminds me constantly of her presence. This is because, with her head where it is, my tailbone hurts when I am in any position other than reclining, and if I happen to be standing, I also feel like the contents of my uterus are going to fall out at any minute. I must also add that since I have become rather large, not only have I not seen my toes in a good while; I also must be hauled out of bed and forklifted from chairs.
Being a short person, there is also the issue of my ribs aching constantly because there is nowhere for this baby to go. And we will not speak of the fact that the back pain this week forced me into an unholy alliance with a frightening support garment known as a pregnancy belt. Or of the even more horrifying fact that, while walking into a grocery store, I often gaze longingly at the little motorized scooters available for disabled shoppers.
Consequently, not only have I been wishing for those old bladder kicks, I've also — just occasionally — been wishing for sweet death. And since this is the very first day of the third trimester, I have at least three more months to go, barring the unlikely event that Chris heeds my wishes and harpoons me.
However, all the aches and pains are worth it on days such as Friday. Thanks to her new bottom-up position and the relatively cramped quarters in my low pelvis, the contortionist-in-training wasn't able to pull her feet over her face like she'd done the week before. Tissues were required as Chris and I finally were allowed to gaze at the face of our little girl.
It's a bizarre thing to look at an ultrasound and recognize someone's face, but that's what happened. In shots from our 17-week ultrasound, I insisted the baby looked like Chris does when he's sleeping. Everyone else commented that the baby looked more like a space alien. With this ultrasound, there's no doubt who the baby looks like.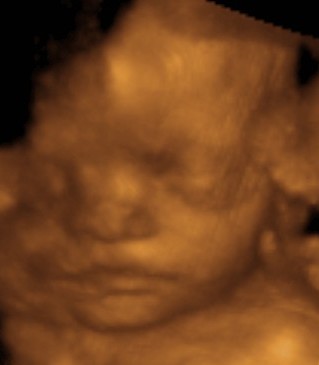 And if it's not spooky enough that the two-thirds-baked bun looks like a tiny clone of Chris, check out a side-by-side comparison of the wee one and big sister, Kaija, with whom she shares only one parent. Daddy has some very strong genes, indeed!
I am delighted that the baby has her daddy's pretty mouth, and if she's really lucky, perhaps she'll get his beautiful green eyes, too. Whatever traits she gets from either parent, it's obvious already that she's a cutie pie! (Of course, we're the parents and therefore our impression of the baby's cuteness is not to be trusted.)
I suspect she will continue to be a pain in my butt for the remainder of the pregnancy. In fact, since she's got five or six more pounds to gain, I suspect her gestation may culminate in the invention of the first-ever tailbone-support garment, which will horrify fashionable pregnant women everywhere until they try it and realize how comfy it is and how nice it is to know there is something keeping their insides from falling out.
But she's my pain in the butt, and I wouldn't trade her for all the comfort and mobility in the world.
Although I am considering adding a Hoveround to my baby registry.
And here are the Week 27 belly pics, NOT a week late this time despite the best efforts of our hotel to thwart our Internet-accessing efforts: